Beginners Guide for Law Students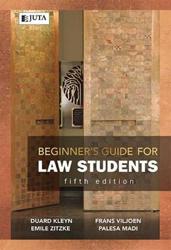 R 670.00
R 770.00
SAVE R 100.00
Beginners Guide for Law Students
D. Kleyn, F. Viljoen, E. Zitzke, P. Madi
In Stock (Online, In Store)
Estimated Dispatch Date:
30 Jun 2022
Beginners Guide for Law Students
Description
The fifth edition of Beginner's Guide for Law Students is a foundational text which introduces first-year law students to: basic legal terminology and definitions; the South African legal system's objectives, history and subdivisions; and legal research skills. Students are introduced to the law as it stands, in accessible terms, with reference to the different sources of law and popular media, to demonstrate how law affects the everyday lives of individuals and groups in South Africa. Without detracting from the book's accessibility, students are made aware of law's complexity, contestability and uncertainties. Beginner's Guide for Law Students goes further in exposing students to critical voices on existing law and encourages students to start developing their own informed opinions about the legal system and what it can and cannot achieve in addressing South African problems today.
Product Information
ISBN13 (SKU)
9781485128342
Title
Beginners Guide for Law Students
Author
D. Kleyn, F. Viljoen, E. Zitzke, P. Madi
Country of Publication
South Africa
Institutions
University of Pretoria, STADIO, University of Johannesburg, Akademia, IIE MSA, Varsity College
Course Codes
JUR110, LCU100, INL100, , FSAL018, FSAL5111, FSAL5121, INTL020, INTL5111, RAETR150, RIREG150