Economics: A Southern African Context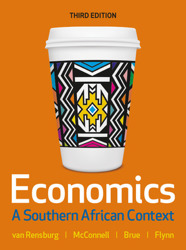 R 1170.00
R 1350.00
SAVE R 180.00
Economics: A Southern African Context
J. J. Van Rensburg, C. R. Campbell, S. L. Brue, S. M. Flynn
Low stock (Online, In Store)
Stock on the Way
Estimated Dispatch Date:
09 Dec 2023
Economics: A Southern African Context
Share:
Description
Economics studies how people, businesses and governments use resources. What shapes our decisions? How do we allocate goods and services? What does a rational choice look like? In this third edition of Economics: A Southern African Context, the authors expertly guide us through the key principles of economics, providing a solid foundation in the subject. The text combines relevant Southern African examples with a clear and accessible narrative. By encouraging critical engagement with economic theories, it provides a basis for examining today's economic, social, and political issues.
Product Information
ISBN13 (SKU)
9781526848697
Title
Economics: A Southern African Context
Author
J. J. Van Rensburg, C. R. Campbell, S. L. Brue, S. M. Flynn
Institutions
University of Pretoria, Stellenbosch University
Related Products
This product has no related products.